Human Food Bars
Human Food Bars are naturally delicious, nutritious, super-filling, and come in 5 fantastic, functional flavours. Each 100% organic bar contains over 50% of your daily requirement of 12 essential vitamins and minerals for energy and focus, plus nutritional peace of mind, with minimal environmental impact.
First time subscribing to Human Food? Here's a little thank you from us, a free Human Food Water Bottle made of recycled stainless steel or an organic cotton Yin Yang T-shirt when you select 30+ bars - just add at checkout!







---
Wholefood benefits. Snack bar convenience
The World's most nutritious organic food, with powerful functional ingredients for natural energy, vitality, and long-term health and well-being. One Human Food bar contaqins 20+ organic whole foods and plant extracts, 21 vitamins and minerals and zero additives.



---
Human Food. Organic, Whole Food Nutrition Bars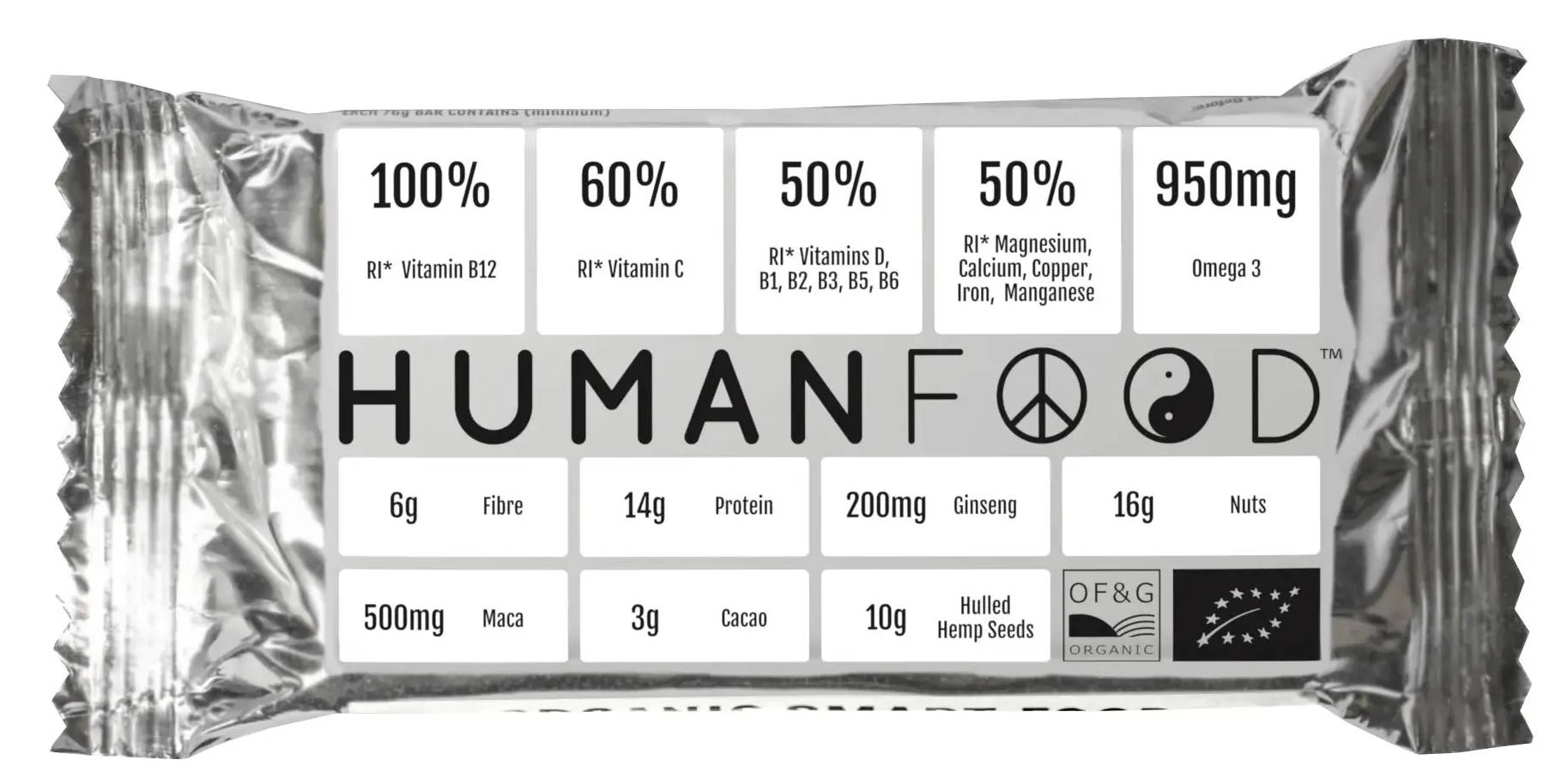 The best organic ingredients, balanced for taste and texture, with nothing added.
For Nutritional Peace-of-Mind
Broad-spectrum, natural nutrition for energy and focus, including over 50% RDI of 12 essential micro-nutrients.
20+ Organic Whole Foods and Plant Extracts
For superior nutritionals, taste and digestion. Ethically sourced, pesticide free, and better for the environment.
Bigger than an Average Bar
76g of organic, fruits, nuts, seeds and other whole foods, for lasting energy and fullness.
Rich in micro-nutrients lacking in vegan and vegetarian diets, including 100% RDI of vitamin B12 per bar, in an active, natural, plant-derived form.
Made from 100% plant fibres and zero plastic. Part of our next-level, lifecycle sustainability policy.
---
The Nutritional Breakdown
To make Human Food Bars we select the most nutritious, health-giving ingredients available - always 100% organic and always plant-based - and in collaboration with a team of health experts, carefully build delicious recipes that maximise each ingredient's natural ability to promote energy, well-being and long-term health.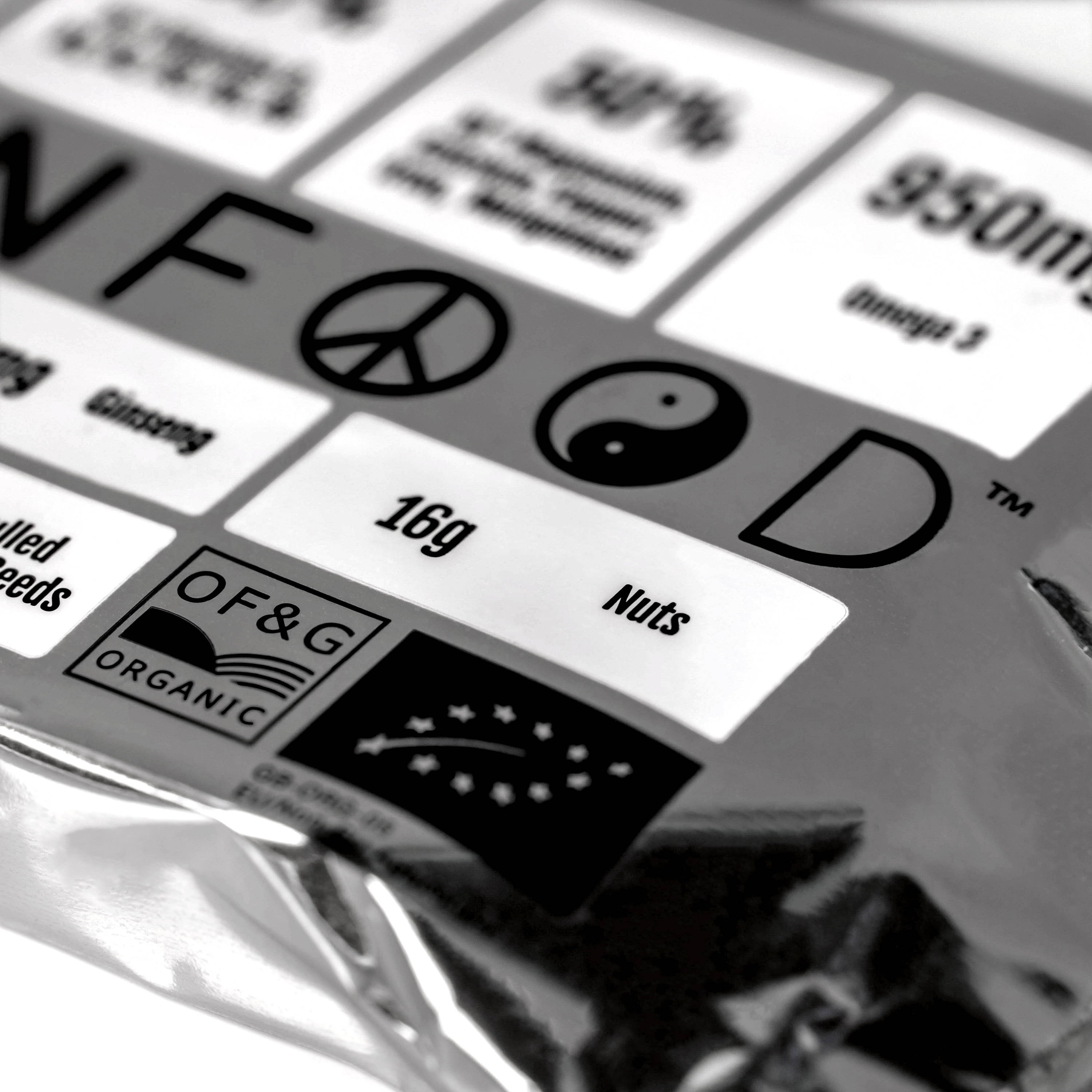 All of our 5 naturally-delicious varieties share next-level Human Food nutritionals. Each flavour also includes a distinctive combination of ingredients offering specific taste and functional properties. Each recipe is carefully balanced to reveal natural flavour and texture
We update our recipes regularly to keep ahead of the game and make sure we're putting out the best bars it's possible to make.
Try all 5 Delicious, Nutritious Bars
Goji berry - fruity, sweet with whole goji berries for an extra burst of flavour. Rich in powerful antioxidants.
Orange Choc Cashew - Organic orange plus crunchy cacao nibs makes for a delicious whole food twist on the classic chocolate orange flavour. 100% RDI of vitamin C per bar.
Turmeric and Mulberry- Warm, delicately spicy and sweet, with a satisfying berry sharpness. Turmeric is shown to reduce inflammation and aid recovery.
Mixed Nut Choc - Rich, dried fruit and chocolatey cacoa, plus a nutty crunch from mixed cashews, almonds and walnuts. 950mg of omega 3 to help regulate immune response.
Spirulina - Rich, full-bodied, dark chocolate flavour. Spirulina has incredible nutritionals plus, high anti-oxidant content.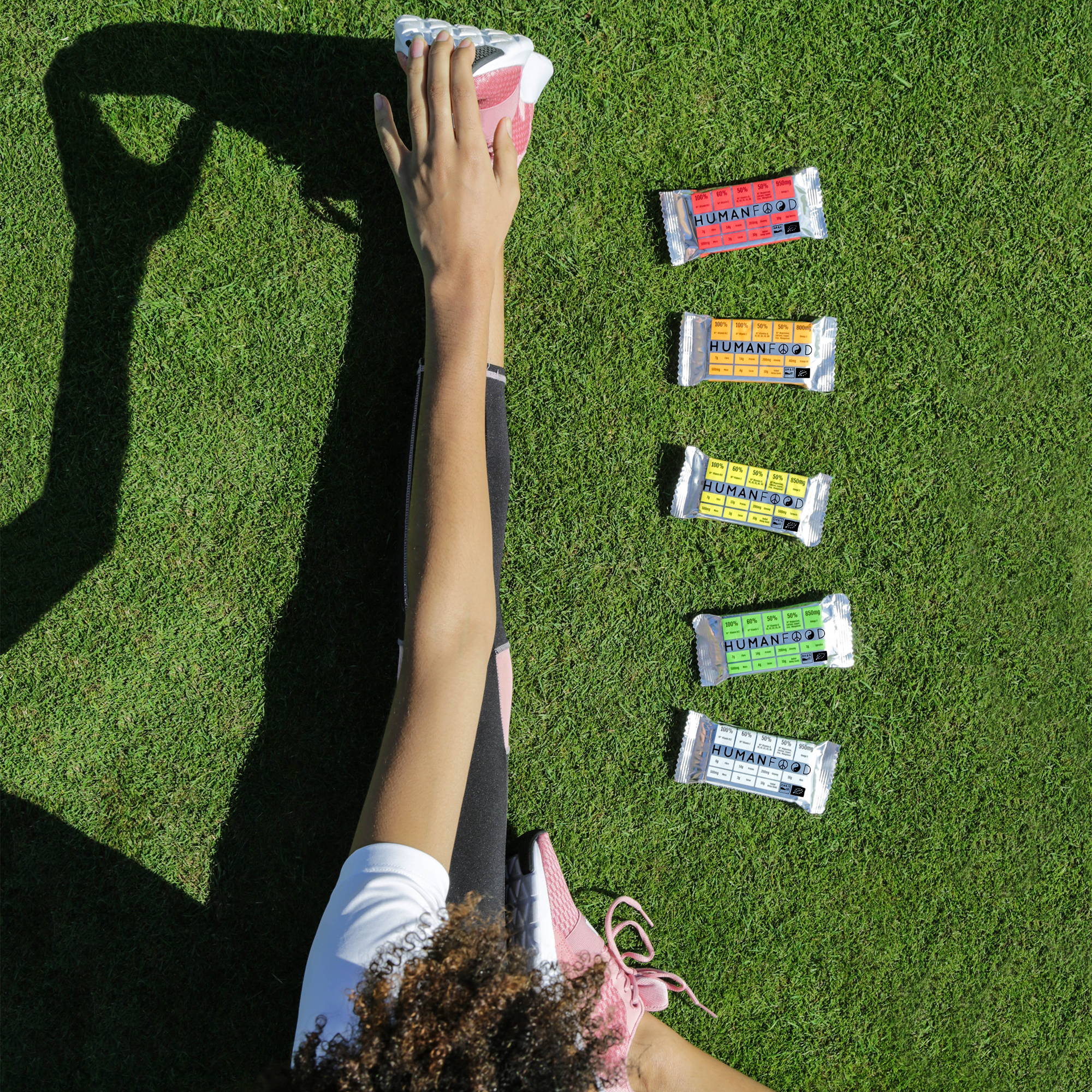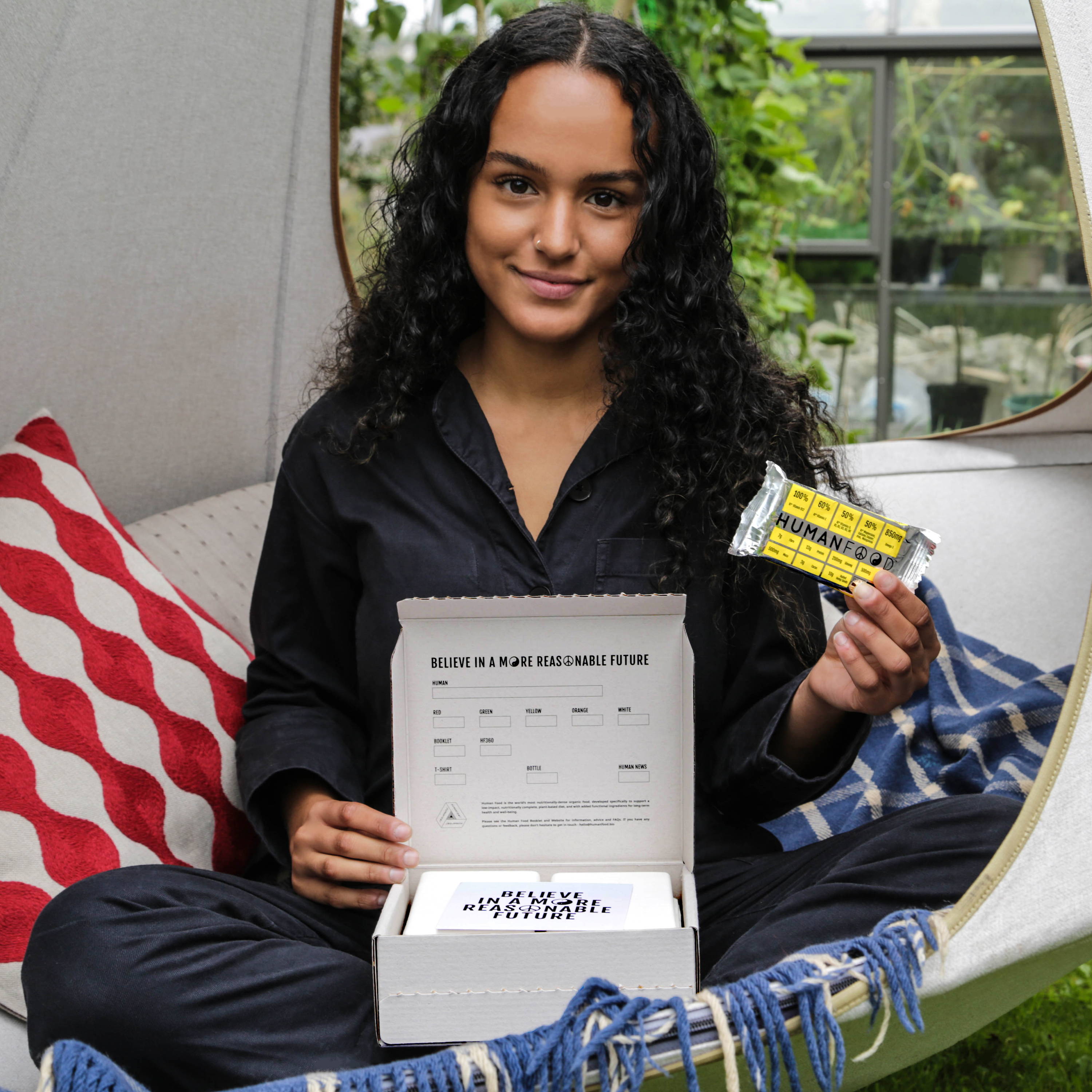 Our wrappers are made of 100% plant fibres, they are plastic free, biodegradable and home compostable.
Our outer packaging is 100% compostable.
---
Dr Hamed Kamali
Practicing physician / certified in plant-based nutrition / Nutrionfacts.org Medical Moderator.
I haven't heard of anything as nutritionally dense and as unique. I've searched for a bar like this since going plant-based - not only addressing the macros - but also the micro-nutrients. All flavours are delicious, satiating and full of superfoods that you might otherwise struggle to get on a daily basis.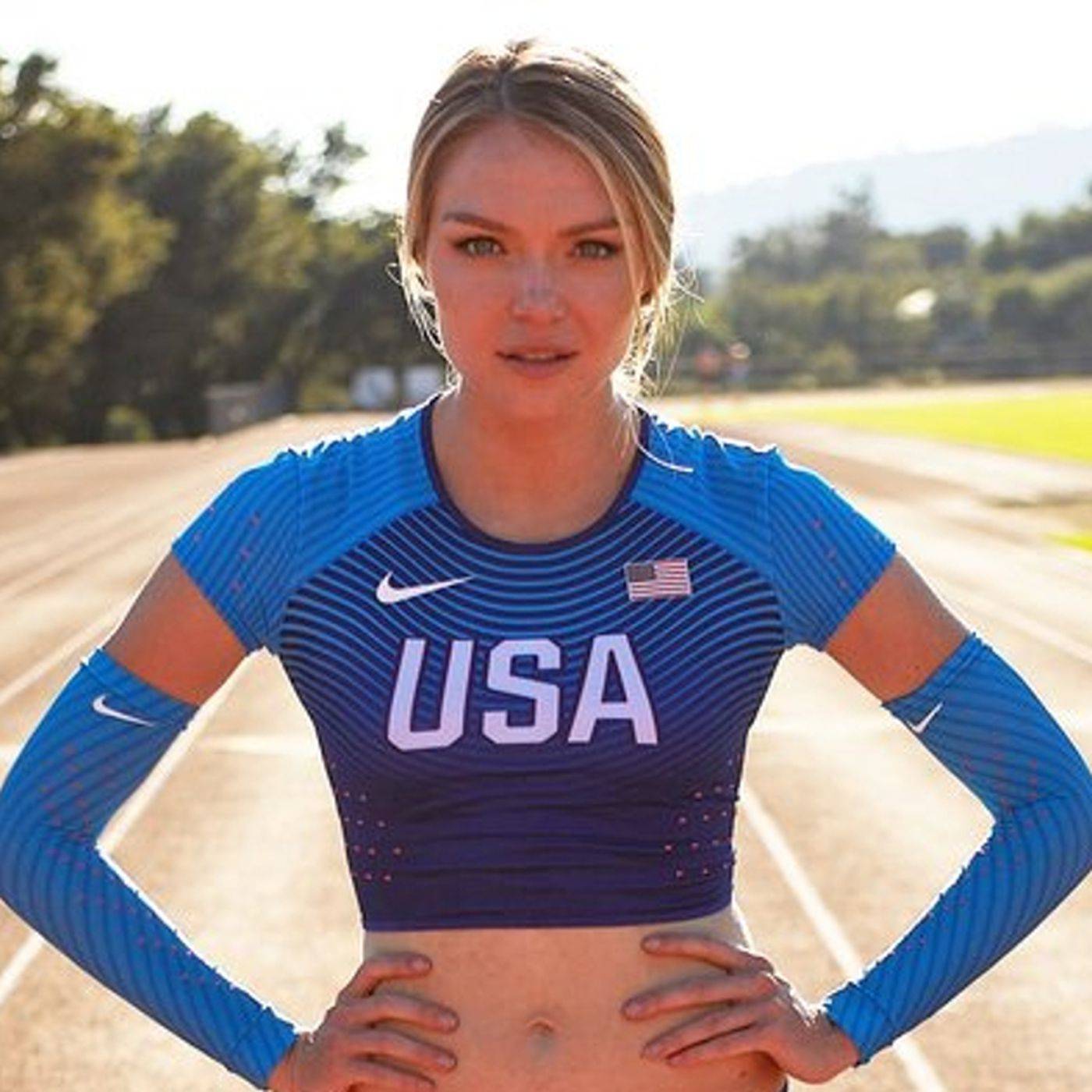 Chari Hawkins
Team USA heptathlete / Word Championships Competitor
HF is SO easy to eat during workouts. GAME CHANGER for me! HF made me feel light, bouncy, clean (as if I had the perfect diet). I think that working with Human Food on a more regular and long term basis will be so insanely beneficial for my training and lifestyle in general!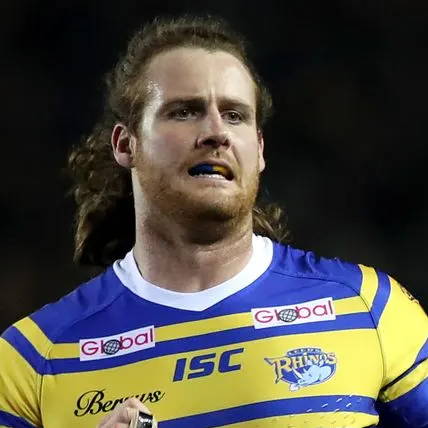 Anthony Mullally
Leeds Rhinos and Ireland Rugby League International
Great Nutritionally and tastes awesome! Great addition to my diet and packed with important nutrients that you wouldn't usually get in your diet.
Catra Corbett
Ultra-marathon runner / Author
The BEST nutrition bar on the PLANET! Great tasting and packed with all the nutrition you need for your race or workout. I just use it as fuel for racing but you could certainly eat it as breakfast or lunch. In August I will have 2 boxes because I am fast packing the 224 mile John Muir trail.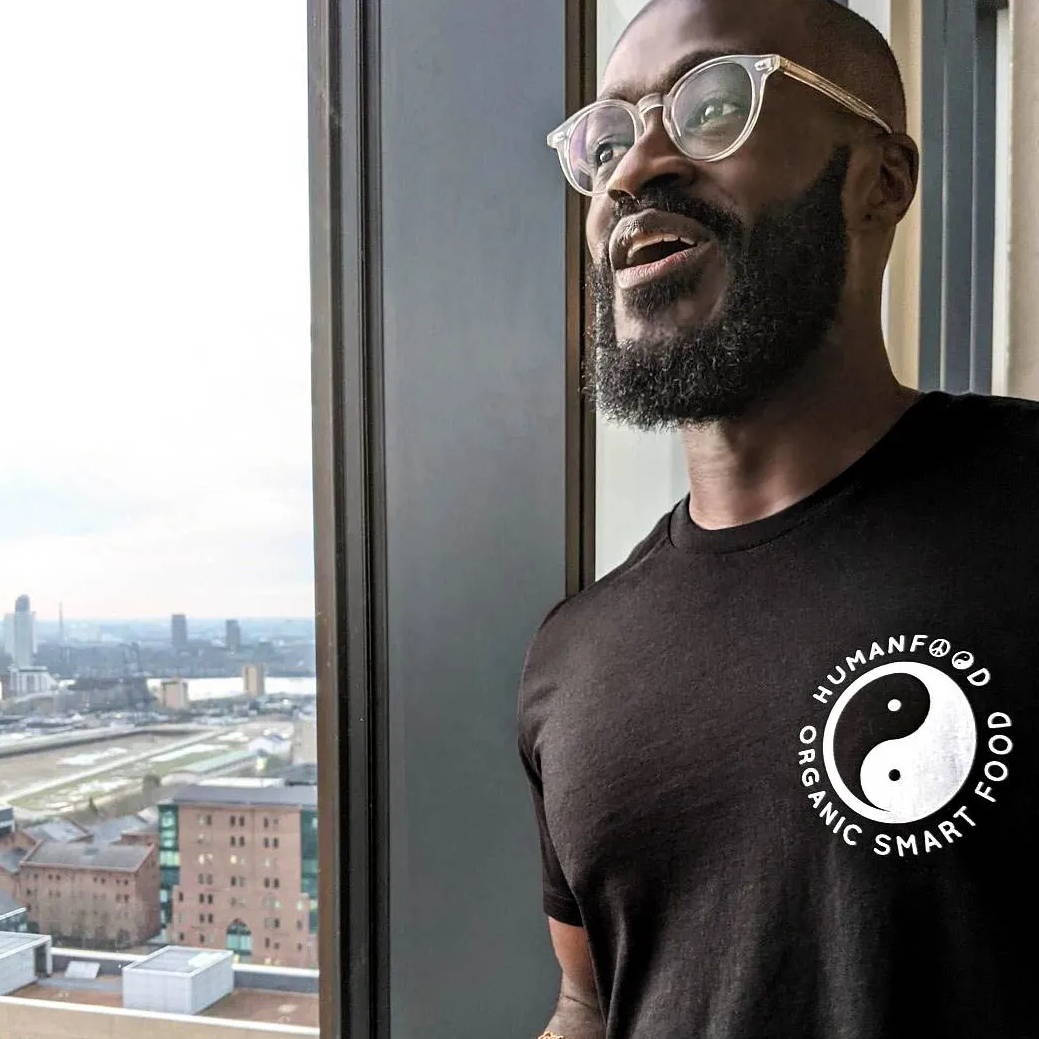 Jeffrey Boadi



WFPB Lifestyle Expert / Author
I've incorporated them into my daily training routine since December and I'm enjoying how they make me feel, as well as being able to easily take them with me on-the-go.
---
Any questions we haven't answered?

Why is it called Human Food?
Human Food bars are the result of a development process based on maximising human health. The starting point for our recipes is your health and well being - that means our bars our incredibly rich in important nutrients, they contain functional ingredients with proven long-term benefits, and are made using only organic whole foods; with zero chemical or industrial additives. Human Food was not designed to fit into super-market supply chains, it was designed to help you live a healthier happier life.
Healthy people need a healthy planet, so Human Food bars come in compostable wrappers, made of plant fibres, all our packaging is plastic free, all our deliveries are carbon neutral, we do everything we can to reduce our footprint and our impact, and what we can't currently work round, we offset through contribution to environmental programmes.
What does Human Food taste like?
Human Food's delicious recipes contain 24 organic whole foods in every single, super-convenient bar, specially selected for their incredible nutritional content, to make your life healthier and easier. Using superior quality ingredients makes for great flavour, our recipes are carefully balanced to allow their wholesome, natural deliciousness shine through.
All our bars contain a mixture of dried organic fruits, seeds and all contain the powerful functional ingredient cacao, these combine to give all varieties a bass note of rich, chocolate flavour. Each variety's distinctive ingredients add colour and flavour; Goji Berry - citrus fruits and berries, Turmeric - warm, sweet spiciness, Orange and Acerola - fresh, bright orange, Spirulina - rich, earthy tanginess, Mixed Nuts - crunchy, nutty goodness.
We use no additives; no flavourings, no preservatives, no sweeteners, no sugar syrups, no synthetic stabilisers, so there's no sickliness and no unwholesome aftertaste.
Human Food Bars are made in batches, they start out with a shelf life of 12 months. and will arrive with you with an absolute minimum of 6 months shelf life remaining. Between production and shipping Human Food bars are stored chilled, to make sure they stay as fresh, tasty and nutritious as the day they were made.
When we make a new batch we donate the remaining bars from the previous production to the food charity FareShare.
I'm using Human Food for nutrition. How many bars should I eat, how often, and when?
In order to gain the full benefit of the nutritional and functional profile which Human Food has to offer, we recommend 1 bar a day at least 5 days a week, although there's no reason why you shouldn't eat more if you want to. If you're vegan or vegetarian, or otherwise have a low intake of animal products and you are using Human Food to meet your daily requirement of vitamin B12 it is best to eat a bar every single day (one HF bar contains 100% RI of vitamin B12). Used regularly Human Food will provide a solid nutritional basis from which it is easy to maintain a wholesome, super-healthy, nutritionally complete diet. HF also offers super-convenient access to the long-term benefits of the unique range of functional ingredients.
Feedback from our subscribers suggests that most people eat Human Food in the morning, often for breakfast, usually with a glass of water and often with a piece of fruit. Many people find HF bars make a good breakfast or lunch, which easily keeps them full until their next meal.
Many subscribers say they find it useful to take a bar to work, as local shops and cafes offer very little that isn't full of sugar and preservatives. HF is also used by subscribers on walking trips, triathlons, international cycle rides, trips into town, and every type of expedition.
Though there is no reason why HF cannot be eaten at any time of the day (or night), ginseng and maca are mild stimulants, which are proven to increase mental focus and physical endurance, perfect for a challenging work assignment or a big training session. However, If you're very sensitive to these ingredients, it may be best to avoid HF just before you intend to go to sleep.
There are a few ways to answer this one.
The simple answer is that it's great food without the hassle - wholesome, clean, delicious and incredibly nutritious - conveniently packaged and delivered with next-level sustainability.
The more complex answer, based on feedback from our subscribers and a whole range of health experts we've worked with and sent sample to over the years, is that it's a lot of different things. Human Food is a whole food multi-vitamin, it's the ultimate organic sports food, it's recovery food for endurance athletes, it's a proper meal for cyclists and rock climbers, it's the world's greatest snack bar, it's a superior quality breakfast bar, it's a lunch, it's desert, it's a safety net for when you're on the go and don't want to fall back on supermarket sandwiches, it's the best ever drawer food for time-poor office workers, writers and designers, it's the best smoothie base ever, it's the first of a generation of functional food bars, it's the thing that will get you through the last 5 miles of your first marathon, it's essential nutritional support for plant-based diets, it's expedition food, it's camping supplies, it's essential support for your transatlantic rowing challenge. . . Human Food works in a lot of different ways for a lot of different people and we're sure to have missed some out, we'll always be pleased to hear how it works for you, so please get in touch.
Why is Human Food organic?
Human Food is designed and developed for a healthier, more compassionate, more reasonable, more sustainable future; the kind of future, that for ourselves and for the good of the planet we need to be moving towards. Our commitment to organic supports this goal in a number of ways:
For health; organic produce does not contain harmful agricultural chemicals, including pesti-cides, herbicides or toxic metals such as cadmium. Organic produce has also been shown to contain higher levels of powerful antioxidants which help to combat and even reverse age-re-lated cognitive decline, including conditions such as Alzheimer's. Organic certification also precludes the use of artificial flavours, sweeteners, preservatives and fortification with synthetic nutrients.
For wildlife; chemical-based farming uses herbicides and pesticides which destroy ecosystems and fertilisers that massively reduce plant diversity. On average, organic farms are home to 30% greater biodiversity, and 300-400% greater abundance of wildlife than those using non-organic methods.
For climate; If all UK Farming was converted to organic, at least 1.3 million tonnes of carbon would be taken up by the soil each year - equivalent to taking 1 million cars off the road.
Does Human Food contain synthetic vitamins?
Almost all supplements, fortified foods (that includes, breads, crackers, cereals, spreads) and meal replacements rely on chemically-manufactured, synthetic versions of real, natural nutrients to achieve their stated nutritional value. They don't like to tell you this but it's important, large scale life-time studies have shown they don't offer the same health benefits as real nutrients from foods, and in some cases can be damaging.
All the nutrients in Human Food come from real, organic ingredients. If you check the label you'll see that you recognise what's there as foods, try the same thing with most fortified foods or meal replacements and you'll see ingredients like 'niacin' or 'B6', or 'Vitamin C (ascorbic acid)' these nutrients don't naturally exist in isolation, they have to be made that way. Organic certification doesn't allow synthetic vitamins, so buying organic is an easy way to make sure you're getting the good stuff.
How do I manage my subscription?
You can manage your subscription via the 'Account' page on this website (top right on most screens). If you have any issues finding this, or managing your subscriptions, please talk to us on live chat or via email, or on the phone and we'll be very happy to talk you through it.
---
Use #HumanFood to share your photos
X
Ingredients
Organic Nuts (Walnuts, Almonds, Cashews) (21%), Organic Hulled Hemp Seeds (13%), Organic Dried Banana, Organic Apple Juice Concentrate, Organic Pea Protein (8%), Organic Pumpkin Seeds, Organic Dates, Organic Dried Figs, Organic Apricots, Organic Cacao Powder (3%), Algae Extract, Organic Cacao Butter (1%), Organic Maca Powder (0.7%), Organic Quinoa Sprout Extract, Organic Curry Leaf Extract, Organic Acerola, Organic Siberian Ginseng (0.3%), Organic Mushroom Extract, Organic Acacia Gum, Organic Black Pepper. For allergens, see ingredients in bold.
X
Nutrition
| | | | | |
| --- | --- | --- | --- | --- |
| Amount | per 100g | RDI* | per 76g bar | RDI* |
| | | | | |
| | | | | |
| | | | | |
| | | | | |
| of which monosaturates (g) | | | | |
| of which polyunsaturates (g) | | | | |
| | | | | |
| | | | | |
| | | | | |
| | | | | |
| | | | | |